Jeannette K. Watson Fellowship
Overview
The Jean­nette K. Wat­son Fel­low­ship is a three year, cohort-based pro­gram that pro­vides fund­ed sum­mer intern­ships and unprece­dent­ed oppor­tu­ni­ties to promis­ing under­grad­u­ate stu­dents from 12 New York City part­ner insti­tu­tions.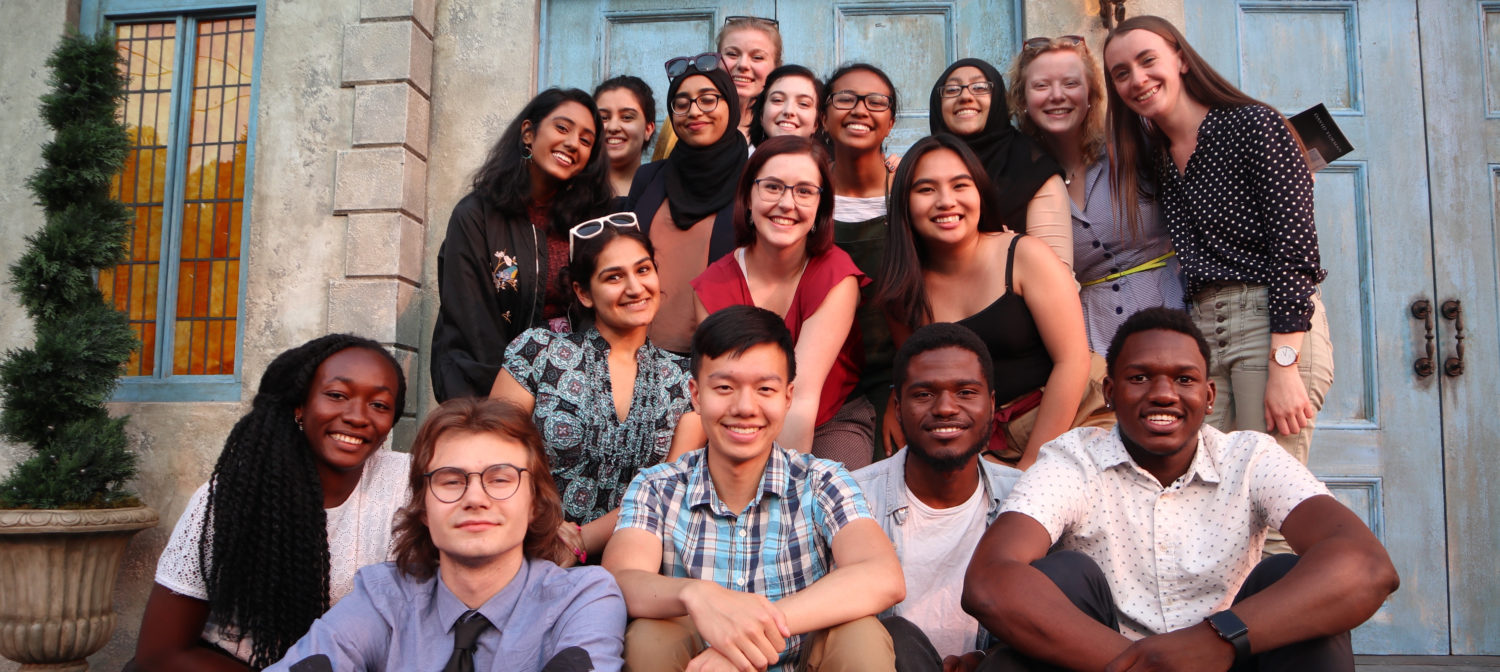 Fellows are provided with annual funding up to $7,500, $9,000 and $10,000 in addition to a $2,000 Discovery Fund to develop their personal, professional, and cultural potential.
Internships
In NYC and overseas, Watson partners with leading nonprofit, for-profit, and government organizations. Internships empower fellows to widen their view of the workplace and deepen their experience in fields of interest.
Discovery Fund
The Discovery Fund extends a fellow's ability to self-initiate further professional exploration including research, fieldwork, conferences, and entrepreneurial ventures.
Seminars
Fellows participate in a seminar series designed to help them build confidence, perspective and understanding of the work world and themselves.
Cultural Events
Fellows attend a series of engaging cultural events that allow them to discover the diversity of New York City and encourage them to explore it further.
Journals
Paired with a thoughtful, experienced reader, fellows engage in an ongoing dialog during the summer to help them process the internship experience and potential career paths.
Cohort
Each Watson cohort is a close-knit group of peers with a variety of backgrounds and interests. Fellows inspire each other and become part of a lifelong network.
Mentoring
Watson staff, journal readers, and internship supervisors provide guided mentorship to help fellows personalize and deepen their fellowship experience.
Become a Watson Fellow
Am I Eligible?
You must be a second semester freshman or sophomore nominated by one of 12 New York City partner colleges. At the time of nomination you must:
-intend to or be majoring in a liberal arts discipline. See our website FAQs for our description of liberal arts.
-have at least four semesters of full-time academic work remaining
-be an American citizen or green card holder (not on an international visa)
-be no older than 21 years old as of the application deadline (February 14, 2024)
-be up to date with your Covid-19 vaccinations
The foundation's vision and values grow from the belief that a diversity of people, ideas, and experiences is critical to creating more humane and effective leaders. Watson Fellows are selected without regard to race, color, religion, sex, gender identity, sexual orientation, national origin, or disability.
Selection Criteria
Qualities sought in the selection of fellows include:
High Standards

Ambition

Openness

Desire to explore diverse cultures and new professional fields

Willingness to act on feedback

Leadership

Ability to work in groups

Integrity & Accountability

Strong academic record
Candidates applying to the Fellowship: please see our FAQ section for a more detailed explanation of our selection criteria.

Fellow Expectations
Attend the award reception and welcome event (April)
Attend the three-day orientation
(late May-early June)
Engage in three summers of diverse domestic and international internships, each 8-10 weeks, completing weekly journals
Engage in weekly summer seminars and events
Participate in several term-time events (weekends, evenings)
Attend an annual reflection meeting with Watson staff (summer/fall)
Attend an annual campus visit (summer/fall)
Attend the annual Watson Finale (fall)
Fellows complete their third Watson summer internship before their final semester as a full-time undergraduate degree candidate, or, if selected in their sophomore year, immediately after the completion of their final full-time spring semester.
Application Process
1. Ensure eligibility
2. Contact your campus advisor
3. Complete the application including:
Three 200 word essays
Two Recommendations
Resume
Transcript
4. Complete the campus selection process
Each partner college may nominate up to four candidates to be considered in the citywide selection process. Please ask your campus advisor about internal campus deadlines. Citywide selection and award announcements take place in late March. Fellows are referred to their first internships in early April.

Accommodations: The fellowship provides reasonable disability, medical, and religious accommodations to ensure that all fellows can meet the program's expectations. Please contact your campus advisor with questions regarding accommodations to complete your application and Watson interview. Please see our website FAQs for additional information about accommodations. Reasonable accommodations do not impact fellowship selection.