News Story
June 20, 2018
Watson Foundation partner 100 Resilient Cities celebrates five years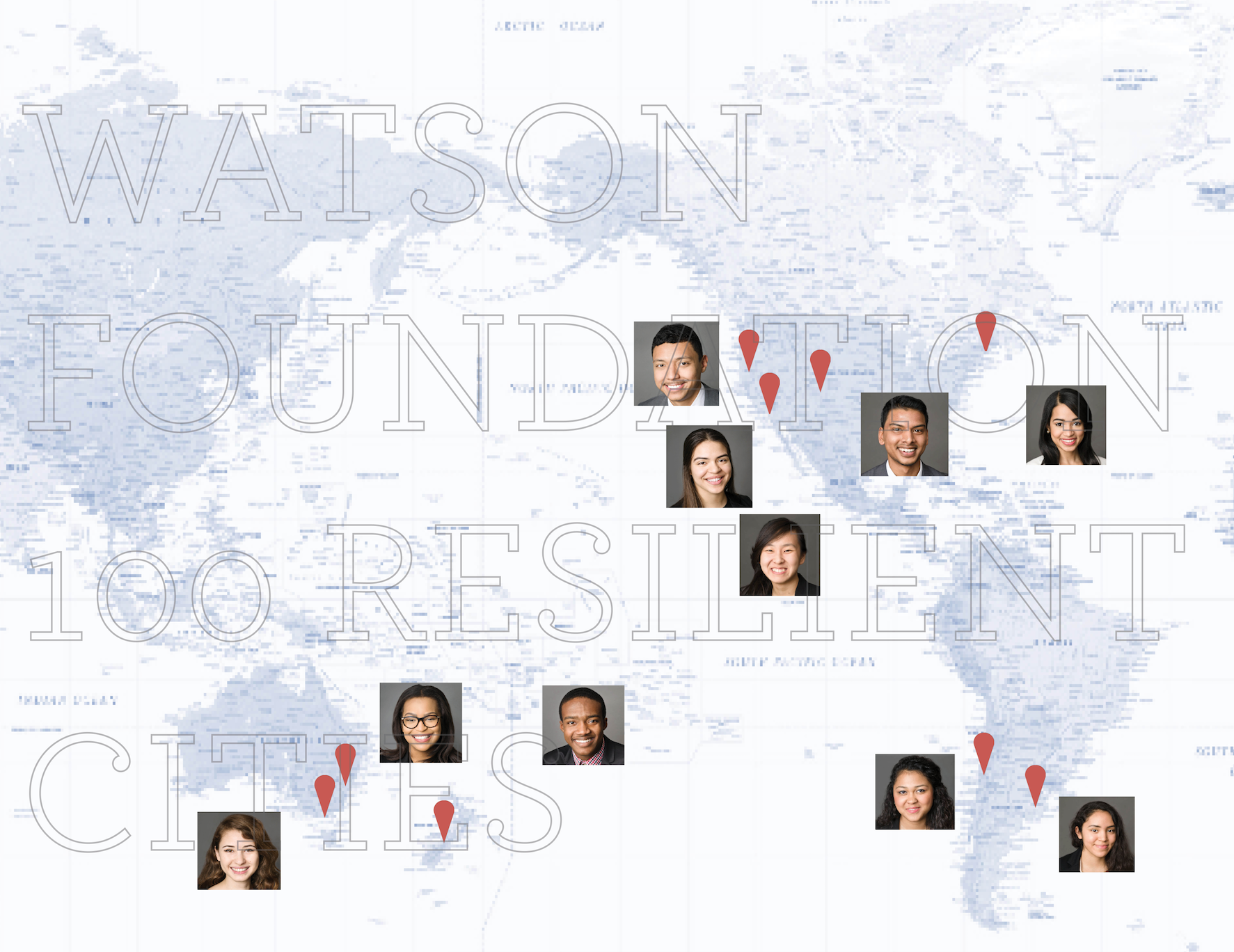 100 Resilient Cities -- Pioneered by The Rockefeller Foundation (100RC) helps cities around the world become more resilient to social, economic, and physical challenges that are a growing part of the 21st century. 100RC was born from a 50 year legacy beginning with Jane Jacobs and leading to the Asian Cities Climate Change Resilience Network (ACCCRN), and just last month celebrated their five year anniversary as the Watson Foundation celebrates its 50 years of fellowships.
The 100 Resilient Cities and Watson Foundation partnership has brought ten Jeannette K. Watson fellows to cities facing a range of shocks and stresses from earthquakes and wildfires to homelessness and aging infrastructure. Sarah Franco '17 in Santiago, Chile, Kadeem Robinson '17 in Wellington, New Zealand, Stacy Aguilar '17 in Santa Fe, Argentina, Taslim Tavarez '17 in Boston, Massachusetts, Isaac Deonarine '17 in Boulder, Colorado, Erika Wang '17 in Los Angeles, California, Cataydra Brown '18 in Sydney, Australia, Jonathan Penuela '18 in Oakland, California, Nicole Krishtul '18 in Melbourne, Australia, and Alondra Cuevas in Los Angeles, California. The fellows organized workshops with community members and leading local experts as well as drafting and implementing the city's resilience strategy.
The Chief Resilience Officer (CRO) was a position previously unheard of five years ago and is now an integral position in 84 cities, breaking down silos in city governments. Jeannette K. Watson fellows have supported Chief Resilience Officers and their leading cities to develop and execute meaningful, high-impact strategies on the most pressing issues of our time.
Media Inquiries
For more information about Watson or our work, please contact us.